10/15





Where Are You From

The Point



Comments: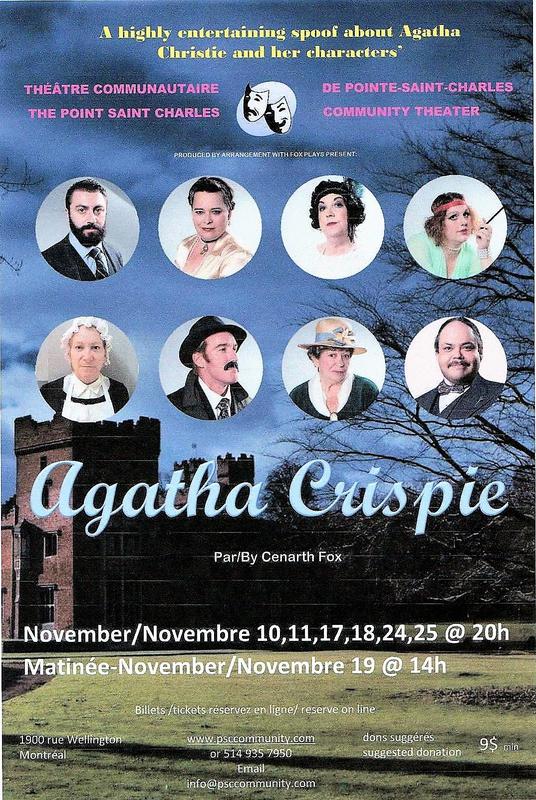 Now in our 12th Season of bringing fun and affordable live theatre to our
Point St. Charles community…our next play coming soon..
The PSC Community Theatre presents:
AGATHA CRISPIE
By
Cenarth Fox
(A highly entertaining spoof about Agatha Christie and her characters)
Dates: (Please note due to high demand, we will perform for 3 weekends)
Friday, November 10th 2017 – at 8pm
Saturday, November 11th 2017 – at 8pm
Friday, November 17th – at 8pm
Saturday, November 18th – at 8pm
Sunday, November 19th – at 2pm (Matinee)
Friday, November 24th – at 8pm
Saturday, November 25th – at 8pm
Location:
All plays are performed at 1900 Wellington St., Montreal (Point St. Charles)
Cost:
Donation (Suggested minimum donation of $ 9.00)
Reserve Today:
Reserve on our main web site at:
Need more Information?
Email to: info@psccommunity.com
---
10/04





Where Are You From

rosevillecalifornia



Comments:


Hi

I would like to say it was nice seeing Billy Wilson and Ron Nipper Choules in the photos of the Frank Hanley event.

My cousin is married to Fr.junior., and her sister was married to Steven Evanshen, brother of Terry Evanshen.

Thanks
Karen Killen
---
| | |
| --- | --- |
| Jim (Tubby) McILWAINE | Email |
09/30





Where Are You From

Point / (Dorval)



Comments:


Our dearest George.

We knew that we would find you, taking pictures at the St. Charles sportsplex in Honour of naming the gym after the great Frank (Banjo) Hanley. As usual a super job done by you.
I can remember the many Christmas parties you and Santa worked in the Point and the countless pictures over the years taking with he kids and Santa by you.
You are a very special person. On behalf of the old and new Point THANK YOU
Your Buddy,
Tubby
---
09/29





Where Are You From

The Point



Comments:




Frank Hanley….

It was a nice ceremony last evening to name the Basketball Court at the Point arena after Mr. Frank "Banjo" Hanley – long time political representative in the Point. As Craig Sauvé, current city councilor, mentioned – it is amazing that as he campaigns for the election, the name of Frank Hanley comes up again and again – and Mr. Hanley left politics about 40 years ago! Not many politicians are remembered so fondly after 40 years!

If you didn't have a chance to attend, you can drop by the arena at 1055 Hibernia and see the signage on the 2nd floor dedicated to Mr. Hanley – it includes some great old photos.

As mentioned, with Mr. Hanley's great contribution to the community, he deserves something even bigger like a street; a park; or a large building named after him. But as highlighted last evening, the Hanley family, along with our Borough Mayor, – Mr. Benoit Dorias, – have been trying for years to have an appropriate space honoring Mr. Hanley. Unfortunately, the naming of these large spaces is the responsibility of the City of Montreal and they have simply ignored any requests. So, the Mayor and City Councilor, said that "enough was enough" and decided to name the Basketball Court – since the Borough is solely responsible to make this designation - and doesn't require any authorization from the City. However, as Mr. Hanley's son, Brian, said the effort should continue to get the park on Centre and Atwater also named for Frank Hanley. Let's all hope that this is done soon….
---
09/27





Where Are You From

The Point / Ingleside On.



Comments:


Glad to see that "Banjo" continues to get the credit he deserves .